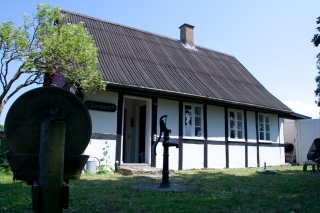 Paradise is an idyllic, small farm house build in 1827. Enjoy the morning sun from the garden bench in the east with a panoramic view and the nearby sea and forest. Or take an afternoon nap on the sun loungers in the garden and enjoy the peace and tranquillity of the surrounding countryside.
The house is well equipped with a fully equipped kitchen where you can prepare hot meals. There is a washing machine, dish washer, microwave, small freezer, outdoor grill and garden furniture. A small tv with DVD player and a very limited number of tv channels. Free WiFi.
There are two bedrooms on the first floor for up to 5 adults + a child's bed (travelling cot) or an extra mattress on the floor. Top quality beds and mattresses.
The rent for Paradise includes the whole of the house and private garden.
Electricity is settled according to consumption at the current daily rate per KWH. There are electric heaters and a wood stove for heating.
Off season
Price per night, weekdays 700 DKK / 95 Euro.
Weekend, Friday-Saturday 1.700 DKK / 230 Euro
Price per Week, Sunday-Sunday 4.500 DKK / 607 Euro
High season – weeks 28-34, 1 July-1 September
Price per night, weekdays 900 DKK / 122 Euro.
Weekend, Friday-Saturday 2.200 DKK / 297 Euro
Price per Week, Sunday-Sunday 5.900 DKK / 797 Euro
The prices includes final house cleaning. Single night stays are charged an additional fee of 100 DKK / 15 Euro.
In addition you can rent
– bedding, towels and t-towels 80 DKK/11 Euro per person
– Large baby travelling cot or mattress on the floor 50 DKK/7 Eur per night
– Dogs allowed 100 DKK/14 Euro per night. Mandatory final cleaning.
Also available:
– purchase of wood for the stove
It is a strictly no smoking house.